Click here to view the newspaper article from Hua Qiao Daily 9th Jan 2005
*
Click here to view the newspaper arcticle from New Sunday Times (Business Times) 12th Dec 2004
*
Click here to view the newspaper article from New Sabah Times (Business Times) 10th Sept 2004
*
*Please note that the articles posted above are in JPEG format and may require some time to load completely. Pictures are enlargeable by clicking the bottom right button on the picture.
Press Release
From the Land below the Wind, comes Malaysia's FIRST Coffee Stall
One of Sabah's largest coffee manufacturers, Cap Kuda Coffee Company, has launched Malaysia 's FIRST Coffee Stall.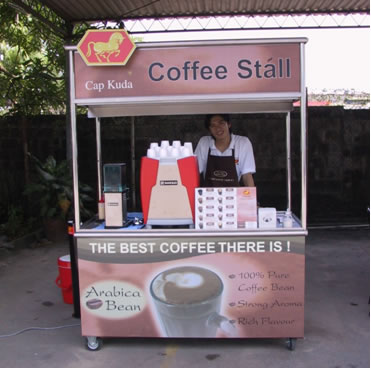 This innovative retail concept is a move in the new direction for the 35 year old company, with a modern ISO plant and established market coverage.
Realizing that consumers now yearn for better coffee beverage than the local Kopi-O * and instant coffee concoctions, the company has answered with Cap Kuda Coffee Stall - a chain of stalls fitted with Italian espresso machines, operated by professionally trained operators, used 100% premium roasted coffee beans to serve a variety of coffee beverages suited to local tastes and at local prices.
Since opening its first stall in Lintas in July 04, followed a month later at KK Gaya Street , the response has been exciting. Serving up local favorites such as 'Kopi Tarik', or western styles like 'Cappuccino' and 'Mocha Latte', or even new-age variants called 'Soya-cino' and 'Coco-cino', both menu and affordable prices have been well accepted by local and foreign taste buds alike.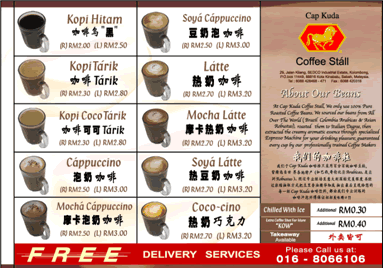 This has been gratifying for the company's GM, Mr Boon Yap: "A good result from months of tedious preparations; Firstly sourced quality beans worldwide to roast to the right degree by our Brazilian roasting machine, Secondly entered into a technological partnership with Rancilio, a top 5 machine maker in Italy to supply us with the latest espresso machines, Thirdly built a Coffee School with state-of-the-art equipments to train our operators; which in itself is another Malaysia's First; Last but not least fine-tuned our beverage menu to cater to local tastes and pricing."
With new stalls now opening up at a rate of one per month, the company's Coffee Stall identity is certainly here to stay - which is good news for coffee lovers all over; now you can have quality coffee drinks at affordable prices without compromise in tastes and flavours!
As Mr Boon Yap puts it succinctly, "we will offer franchise programs for our Coffee Stalls shortly, so that they can be seen everywhere and enjoyed by more people without too long a wait", expect true coffee aroma to hit your senses soon!
* (Kopi-O = coffee caramelized in sugar with wheat)